Volunteer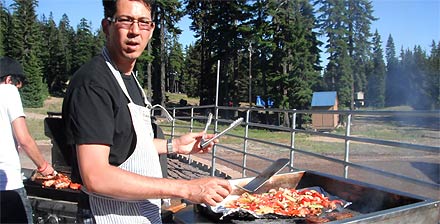 Get Involved
Willamette Alpine Race Program faces many challenges as a non-for-profit ski club. We offer several reasonable priced ski programs to make the club as affordable as possible to those of different income levels and by providing top quality coaching to our athletes. However, a few of our programs, such as our Mitey-Mites program only cover the cost of coaching over the 10 week program and do not contribute to other general club overhead expenses, such as the cost of replacing equipment, dues to the United States Ski & Snowboard Association (USSA) and Pacific Northwest Ski Association (PNSA) and other club related items.
Therefore, WARP relies heavily on fundraising to recoup the difference lost by these programs by organizing several yearly fundraisers, such as Dinner in the Sky, ULLR Fest, WARP Downhill and the Peter Lorincz Cup. However, to make these events a success, we need your support by either attending these events or by helping with their operation so that WARP can continue to be an affordable and family operated ski club. We know times are tough, but if you can help by volunteering at one or two of our yearly events, it would be a big help to the club.
Below is a list of our upcoming fundraising events for the 2012-13 season. Please contact us at warpracing@gmail.com if you can help volunteer at any of these events.
ULLR Fest - Friday, November N/A, 2013 @ Ninkasi Brewing
This one night event schedule in November, 2013 at Ninkasi Brewing in downtown Eugene, OR is our first fundraiser to kickoff the new ski year. In partnership Pacific Northwest Ski Education Foundation, we invite the entire Eugene/Springfield community to this event as we help bring on winter by burning a pair of wood skis to please the Norse god of snow. Ninkasi Brewing will donate $1 of each pint of beer sold, while the club will also benefit by selling $1 raffle tickets and hosting a silent auction. WARP is seeking volunteers to sell raffle tickets at the event and to also find prizes to be auctioned off at the event.
Peter Lorincz Cup - Feb 16 & 17, 2013 @ Willamette Pass Resort
This two day event features both a slalom and giant slalom race. WARP is currently seeking course officials and gate keeps.
WARP Downhill Series - Summer 2013 @ Willamette Pass Resort
Since 2009, WARP has been organizing several downhill mountain bike races at Willamette Pass Resort. This event draws athletes from all over the Northwest and we hope to continue grow this event in the years to come. The volunteer positions we need to fill include everything from race registration to course spotters. The majority of volunteers are only needed on Sunday for this two day event.
Dinner in the sky - Saturday, Aug. 3, 2013 @ Willamette Pass Resort
This truly unique dinner experience takes place on the Oregon Skyway Gondola at Willamette Pass Resort and it scheduled to be held on Saturday, August 3, 2013. There will be two seatings (5pm & 7pm) and we ask all club volunteers to either participate in this event or help by volunteering for one of the open positions. Due to the sheer size and organization for this event, we need help filling several positions ranging from event prep to clean-up.